Legal design thinking is on the rise, but why should you invest time and budget in this? What can it do for your office?
Legal design thinking is on the rise, but why should you invest time and budget in this? What can it do for your office?
Are you bothered by your clients regularly nagging you with last-minute work? Do you consider building a good client relationship as important? Do you always want to be one step ahead of your competitors? And do you want to win your lawsuits with clear infographics?
With Legal Design you can take the next step in innovation: clarify procedural documents, advice and contracts to win, learn how to renew the customer journey of your legal services and clearly communicate recurring basic principles to your client so that he / she comes to you sooner with legal strategy questions. You estimate the risks in his / her situation and solve them before they arise. In this way you build a lasting relationship and help you to better integrate the legal aspects into your client's product or service. So, avoid conflicts, create results and respond seamlessly to the process when a dispute does arise, with which you can outperform the competition with clear infographics, win lawsuits and continue to work on your client relationship.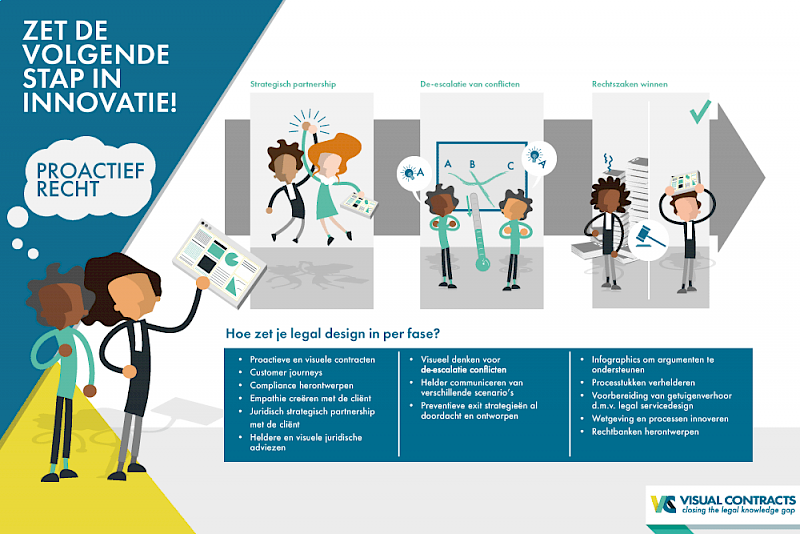 Visual Contracts offers you various forms of legal design thinking training, hands-on legal design support and customization that will help you achieve these results and continue to win your lawsuits with ease. We currently offer 3 different types of Legal Design trainings that will adapt to your needs and your way of learning. You do not need to have previous knowledge or skills to attend our trainings, as they are introductions to Legal Design Thinking that will help you to get familiar with the approach. The only thing you need to bring is your own professional background and experiences.
Individual trainings

The individual training is an online course where you will learn the basics of Legal Design Thinking. During this course you will learn how to create understandable and engaging legal documents, by learning the basic principles of legal design thinking.

The disciplines and skills in this course include Visual thinking, UX Design, Plain legal language, prototyping skills. Additionally, the course includes several assignments where you will put into practice the skills that you have learned. Sign up here

Group Trainings

Join our introduction trainings to Legal Design Thinking consisting of 2x 4hour online sessions in one week, to get familiar with this new approach! We will focus this introduction on privacy statements or employment contracts, to really get hands-on with Legal Design Thinking. The trainings are highly interactive and creative, i.e. making use of prototyping, visual thinking and other design thinking methods to stimulate creativity and empathy within the legal field. Sign up here

In-house trainings

If you are looking to get your whole team started in Legal Design Thinking then In-house trainings are the most suitable training. These trainings are personalized according to the needs and goals of your team. We will help to open up your team's mindset and train you in order to be able to create legal design documents and services. Request a proposal here.
How will legal design help my law firm?
Legal Design helps you to take the next step in innovation putting your law firm as market leader. One of the common issues for attorneys is that their clients contact them last minute in the process for changes, solutions and updates on a legal issue. But with Legal Design we can help you and your clients to make more strategic decisions, involving you earlier in the process, which broadens the service offerings that lawfirms can offer. There are three main benefits that integrating Legal Design in your law firm will bring you:
Winning Lawsuits
Legal Design can help you to win lawsuits by creating more understandable documents and effective processes. For example, it will aid you to design infographics that will support and communicate your arguments in a clear way. It will help you clarify process documents fostering the use of plain legal language on top of visualisation. Furthermore, it will encourage the creation of more innovative and efficient legal processes, stimulating legislators and courts to redesign how litigation design is experienced and practiced. An example is the preparation of witness examination by means of legal service design.
Conflict De-escalation
The use of visual thinking, one of the main disciplines of Legal Design, can help in the de-escalation of conflicts. Using visualizations, it will be possible to provide a clearer communication of the different scenarios that might solve a conflict. Or to bring new perspectives to hear the opponents view. Additionally, it encourages the design of preventive exit strategies in contract drafts for collaborations that can be applied in case that a conflict arises.
Strategic Partnership
Legal Design fosters the creation of a strategic partnership, which will improve the relationship with your client, making sure that you are involved earlier in the decision process and embedding legal sound bases within the operations of business. Using customer journeys will provide you with the necessary insights to improve your services and processes, to tailor them better to your clients by creating empathy. Finally, by using visual thinking and UX disciplines you will be able to create visual and proactive contracts that will be more understandable and effective.
As you can see there are many ways in which Legal Design can help you and your law firm, do you want to follow a training? Go to Academy and sign up.